Professional socket &plug in the world

Wonpro, is the mother of universal receptacle, and the creator of universal receptacle.
Wonpro, the first world-patented brand, establishes the kingdom of Universal Travel Adapter .
Wonpro, have patented its products in more than 50 countries, is generally recognized the No. 1 brand of high-grade low-voltage electrical product.
Wonpro, is a super excellence manufacturer and supplier of high-grade low-voltage electrical product.
We independently research, develop and professionally manufactured Wonpro advanced European type household switch, socket, universal receptacle, universal travel adapter, industrial socket, dynamo LED torch, plug, power strip, Universal socket extension, power cord series etc.

Wonpro, established in 1989, has a R&D center, whose class and strengthen keep ahead in the world. We build manufacturing factory ourselves in Xiamen which have reputation international Garden City and locates in the east-south of China, build global customer center, and manufacturing center and quality management center, run integration modern management system and serve all customers from all over the world. All products are manufactured completely in conformity to the requirement of ISO9001:2008 International Quality Management System. Our products have obtained the certificate of CCC (China Compulsion Certificate) , IEC884,IEC669 of International Electromechanical Commission (IEC) ,CE of EU, RoHS, , and have received Adopting International Standard Product Marking Certificate.
Our products widely are used and sold well in various factories for industry manufacture, manufacturers of power supply and its auxiliary facilities, units of administration system such as banks and post offices, computer corporation, super-market, mall, lock shops of various department stores, arcades of hardware and chemicals, design and installation companies of water supply and power supply projects, decoration and design sector, real estate developer, construction design institute, construction engineering corporation, touring group and travel agency , etc
We devote to create universal receptacle to connect all parts of the world and provide all kinds of excellent solutions that freely accept and insert between all kinds of plug and socket in the whole world. And always regard supplying convenient safety and high-grade household and industry electrical appliance accessories to numerous consumers as our duties. We have taken the lead in creating universal safety receptacle to unify all kinds of plugs all over the world, built the global village of universal receptacle, and concentrated the conception of global village on the panel of Wonpro universal safety receptacle. Wonpro global integration products, superior in design beyond compare and high quality, firstly lead the world, solely step the global, go deep into the human life, and make all human being more safe, free and happy in the future life.
Famous Customers (partial listing):
Bank of China
Dell Computer ( China ) Co., Ltd
Kodak ( China ) Co., Ltd
Hughes Network System
Linde ( China ) Co., Ltd
CCTV
China PLA general hospital
Konia Co.,Ltd
HUAWEI Technology Co.,Ltd
USA APC Co., Ltd
Xiamen International Confence & Exhibition Cente
Xoceco Co.,Ltd
WAL-MART ( China ) Co., Ltd
Nokia ( China ) Co., Ltd
Motorola ( China ) Co., Ltd
China Unicom
National Center of Biomedical Analysis
Longcheer Yacht Club
Swissotel Hotels & Resorts
Jing Guang New World Hotel
Amoi Electrical Co.,Ltd
MARCO POLO HOTELS
CROWNE PLAZA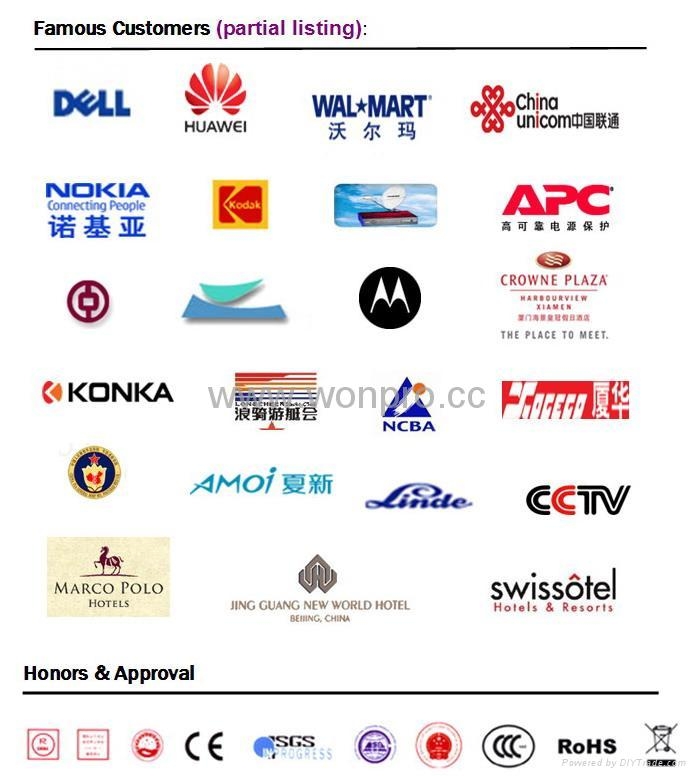 Name of product series: Universal travel adapter series
Material: Made of ABS fireproof /High-grade copper of metal parts
Functions:
1. Patent universal receptacle can accept different plugs all over the world.
2. 22 kinds of plugs, including all plugs all over the world, can be optional
Approval: CE /RoHS
Product in color: in white /black/purple/green/orange/red
Packing:in blister card /in small box
Scope of product series:
WA-3,5,6,7,7F,9,9A,9B,9C,10,10L,11,11A,12,12A,14,15,16,17,18,20,21,320

Name of product series:
Universal travel adapter w/safety shutter series


Material:
Made of ABS fireproof/High-grade copper of metal parts

Functions:

1. Patented safety shutter has a unique function of double-on-and-off
2. Universal receptacle can accept different plugs all over the world.
3
.
22 kinds of plugs, including all plugs all over the world, can be optional
Approval:
CE
RoHS
Product in color
:
in white
/

in black ( orange shutter)
Packing:
in blister card
/

in small box
Scope of product series:
WAS-3,5,6,7,9,
9A
,9B,
9C
,10,
10L
,11,
11A
,12,
12A
,14,15,16,17,18,20,21,320

Name of product series:Universal Safe travel adapter w/dual voltage indicator & surge protector series
Material: Made of ABS fireproof /High-grade copper of metal part
Functions:
1. Patented safety shutter has a unique function of double-on-and-off
2. Universal receptacle can accept different plugs all over the world.
3. (V) with 110V & 220V voltage indicator
4. (S) with lightning surge protector
5.22 kinds of plugs, including all plugs all over the world, can be optional
Approval: CE/RoHS
Product in color:in orange
Packing: in blister card /in small box
Scope of product series:
WASvs-3,5,6,7,9, 9A ,9B, 9C ,10, 10L ,11, 11A ,12, 12A ,14,15,16, 17, 18, 20, 21, 320
Name of product series:Universal Safe travel adapter w/dual voltage indicator & surge protector series
Material: Made of ABS fireproof /High-grade copper of metal part
Functions:
1. Patented safety shutter has a unique function of double-on-and-off
2. Universal receptacle can accept different plugs all over the world.
3. (V) with 110V & 220V voltage indicator
4. (S) with lightning surge protector
5.22 kinds of plugs, including all plugs all over the world, can be optional
Approval: CE/RoHS
Product in color: in black
Packing: in blister card /in small box
Scope of product series:
WASvs-3,5,6,7,9, 9A ,9B, 9C ,10, 10L ,11, 11A ,12, 12A ,14,15,16, 17, 18, 20, 21, 320